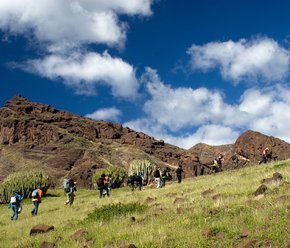 Undergraduate Courses in Uppsala University's Bachelor Programme in Earth Sciences
Rocks and Quaternary Deposits
In the part of the course focusing on rocks students are taught the fundamentals of mineralogy and petrology, i.e. the students discover the minerals that build up igneous, sedimentary and metamorphic rocks. These minerals are then put into the context of the processes and conditions/environments of rock formation of igneous, sedimentary and metamorphic rocks in turn.
As part of the course, I teach a one-week field course in bedrock mapping that aims to introduce the students to the basic geological field techniques, including safety, and trains their recognition of minerals and rocks in the field.
>> Uppsala university course page
Structural Geology and Ground Stability
As a part of the course in Structural Geology, I teach a 23-hour practical on map analysis. This practical focuses on training the students to extract geological and structural information from geological maps, construct cross sections and maps, and interpret the geological history of an area from geological map data.
>> Uppsala university course page
Field Course in Earth Sciences
I am responsible for a 5-point field course, in which students are trained in basic mapping techniques, which include mineral and rock identification and description in the outcrop, identification and measurement of basic geological structures, mapping of rock units and geological structures. The part of the course I teach (5 days) is dedicated to skill training going from a short practical training session to several assignments where the different skills have to be applied in selected outcrops with increasing degree of complexity.
>> Uppsala university course page